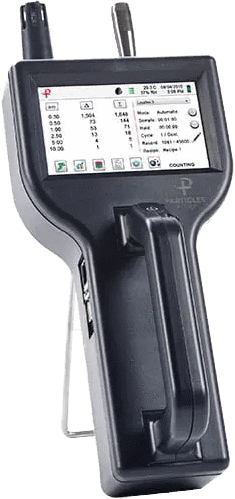 Images are representations only.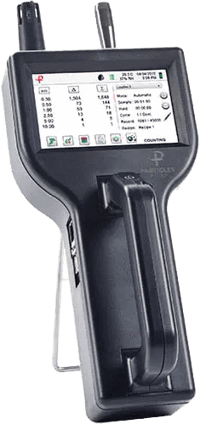 The Particles Plus® 8303 Handheld Particle Counter measures 0.3 to 25.0 μm with a flow rate of 0.1 CFM - 2.83 LPM.

Easy to configure, this instrument displays up to 3 user-selectable size channels as well as optional temperature and relative humidity.

View data and generate ISO 14644-1, EU GMP Annex 1 or FS 209E reports.

Export to Particles Plus® data-software.

The 8303 also has a mass concentration mode that approximates density in μg/m³.

All Particles Plus® counters meet ISO 21501-4 and JIS B9921.

The 8303 ensures compliance with an on-board pulse height analyzer.
Features
Measures 0.3 μm to 25.0 μm
0.1 CFM - 2.83 LPM Flow Rate
Long-life Laser Diode Technology
Measures Up to 3 Channels of Simultaneous Data
Approximates Mass Concentration in μg/m³
Integrated Handle for One-handed Operation
Large Easy-to-use icon Driven Color Touch Screen Display
Optional Temperature and Relative Humidity Probe
Stores Up to 45,000 Sample Records, 1,000 Sample Locations and 50 Recipes
Easy Configuration and Transferable from Instrument to Instrument
Connect Using USB or Optional Ethernet, Wireless 802.11 b/g, RS485 or RS232
Displays Reports for ISO 14644-1, EU GMP Annex 1 and FS 209E
Internal Audible Alarm
User-definable Reports
User-selectable Channel Sizes
Complies with ISO 21501-4 and JIS B9921 Standards
Easy to Clean and Wipe Down with Minimal Particle Traps
Lightweight High-impact Injection Molded Plastic Enclosure
1 Year Warranty - Extended Warranties Available.
Specifications
Size Range
0.3 μm to 25 μm
0.5 μm to 25 μm
Size Channels
Factory calibrated at 0.3, 0.5 and 5.0 μm with user-selectable middlesize channel
Concentration Limit
15,000,000 Particles/ft³ at 5 % coincidence loss
Counting Efficiency
50 % at 0.3 μm, 100 % for particles > 0.45 μm per JIS
Zero Count
< 1 count/60 minutes
< 1 particles/6 ft³
Count Modes
Automatic, manual, real-time meter, cumulative/differential, mass concentration, count or concentration
Calibration
NIST traceable
Recommended minimum once per year
Display
4.3″ (10.9 cm) WQVGA (480 x 272) color touch screen
Printer
Optional
External thermal printer
Vacuum Source
Internal pump with automatic flow control
Custom Size Channels
Calibration for custom size channels available
Audible Alarm
Adjustable built-in alarm
Reports
ISO 14644-1
EU GMP Annex 1
FS 209E
Recipes
50 user-configurable recipes
Optional Communication Modes
Ethernet
Wireless 802.11 b/g
RS-485 or RS-232
Alarm
Alarms on counts for all particle sizes, low battery, sensor failure, environmental sensors and flow
Standards
ISO 21501-4 and JIS B9921
External Surface
High impact injection molded plastic
Dimensions
L x W x H
10" x 5" x 4.5"
25.4 cm x 12.9 cm x 11.4 cm
Includes handle and does not include probes
Accessories
Operating manual on USB flash drive
Isokinetic probe
Purge filter
Battery
Data download software
USB cable
Power supply & cable
Optional Accessories
Printed manual
Carrying case
Spare battery
External battery charger
External printer
Isokinetic probes
Temperature relative humidity sensor
Buffer Memory
45,000 sample records (rotating buffer) including particle count data, environmental data, locations and times
Scrollable on screen or printout
Sample Locations
Up to 1,000 locations 20 characters long
Power
110 to 240 Vac 50/60 Hz universal in-line power supply
Operating Conditions
41º to 104ºF (5º to 40ºC) / 20 % to 95 % non-condensing
Storage Conditions
32º to 122ºF (0º to 50ºC) / Up to 98 % non-condensing
Research
Industrial Health and Safety
Indoor Air Quality
Cleanroom