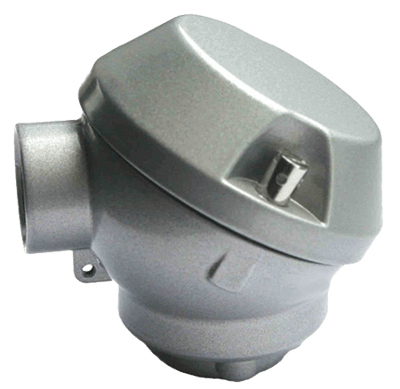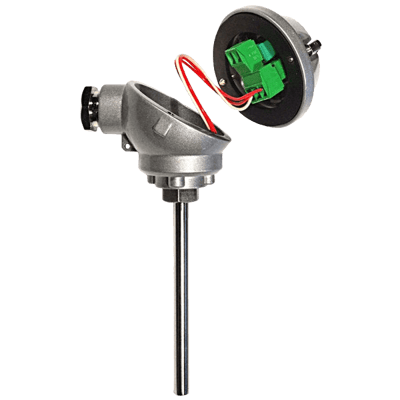 Images are representations only.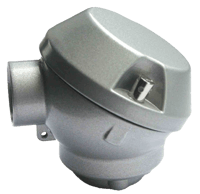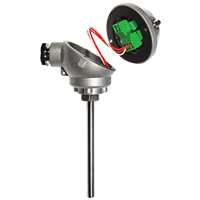 The HTR200 is a cost effective "smart" transmitter integrated into an MAA type connection head that accepts resistance signals including RTD sensors and converts them to a standard industrial (4 to 20) mA transmission signal over a user programmed range.

There are two versions available with either 1/8" BSP or M10 probe connections.

Its small size (52 mm swing diameter), allows for installations where space is critical and being 60% lighter than a conventional transmitter installed in a KNE type alloy head, means smaller stem diameter and head threads can be used in the temperature probe.

Temperature probes are sold separately and our style 1 and 2 are the most popular with this product.

A flexible approach has been taken with this design in that, the standard product will accept over 30 resistance sensors, including Pt100, Pt500 Pt1000, Ni100, Ni1000 and variable resistance.

The new design also allows for custom sensors to be accommodated. It is also possible to generate your own linearisation curve for resistance or slide wire inputs.

PC configuration allows the user to select Sensor type, Range, Units and error signal without requiring calibration equipment.

Configuration is performed quickly using our USB port driven configurator by simply connecting two clips to the HTR200 loop terminals and following the software instructions.

Additionally, the user may read live process data when connected to the PC, allowing for sensor offset calibration, where the user can enter an offset value to correct for any sensor offset.
Specifications
Accuracy
(mA Output/2,000) or 5 µA whichever is greater - for Output
Resistance: ± 0.055 to ± 10 ohms
Sensor: ± 0.05 % of Reading + ± 0.2° C (± 0.36° F)
Slide Wire: 0.05 %
Approvals & Certifications
EMC BS EN 61326
IEC 61000-4-2 (Electrostatic Discharge), 61000-4-3 (EM Field), 61000-4-4 (Transient Burst (Output)), 61000-4-5 (Surge (Output))
Current
Excitation Current: < 200 μA
Loop Current: 4-20 mA
Electrical Connectors
2 or 3-Wire Screw Terminal
Humidity
10 to 90 % Relative Humidity, Non-Condensing
Operating Temperature
-40° to 85° C (-40° to 185° F)
Operating Temperature - Sensor
-200° to 850° C (-328° to 1,562° F)
Output
2-Wire (4-20) mA Current Loop
3.8-21.5 mA
4-20 mA
Output Load
(Vsupply-10) / 20 kiloohms, Max.
Power Supply Effect
Loop Voltage Effect: 0.2 µA/V
Resistance
10 to 10,450 ohms
Maximum
Sensor, Probe Connection
2- or 3-Wire Screw Terminal
Sensor, Probe Type
Cu100
Cu1000
Cu53
Ni100
Ni1000
NI120
Ni507.5
Ni604
Pt100
Pt1000
Pt500
RTD
Storage Temperature
-50° to 90° C (-58° to 194° F)
System Requirements
Running Windows® XP or Later with USB Port
Temperature Effect
Lead Resistance Effect: 0.002° C/ohm
Turn-On Time
4 seconds (I Out < 4 mA During Start Up)
Update Time
200 milliseconds
Warm-Up: 1 Minute to Full Accuracy