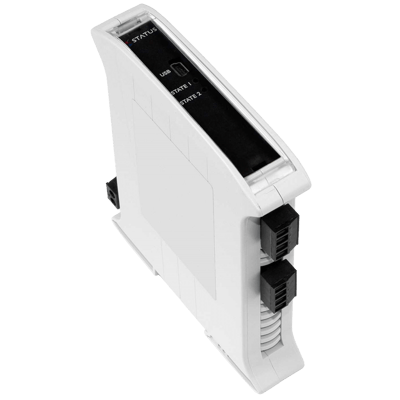 Images are representations only.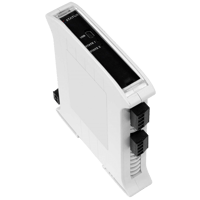 The SEM1750 is a cost effective dual channel signal conditioner that accepts a bipolar voltage or current signal and isolates to provide ranged industrial process output signals such as (0-20) mA, (4-20) mA, (0-10) V, (1-5) Vdc.

The SEM1750 is configured using our easy to use configuration software USB Speed Link.

USB speed link offers the user two levels of configuration: a basic current/voltage signal converter where the device can be set as dual channel or signal splitter, or for more advanced applications, a configuration menu offering a wide range of user set functions, including process scaling and profiling, maths functions, signal damping, sensor linearisation and signal preset for diagnostics purposes.
Features
Dual Channel Voltage Or Current (Active/Passive)Inputs and Outputs
5 Port Isolation To 3.75Kv
Can Be Configured As An Active Signal Splitter
User Selectable Maths Functions On Each Output Channel
Signal Linearisation
Signal Simulate Function For Diagnostics
Specifications
Accuracy
± 5 µA or (mA Out/2,000), whichever is greater - Output Current (Channel 1 & 2)
± 5 mV - Output Voltage (Channel 1 & 2)
Range -22 to 22 mA: ± 5 µA - Input Current (Channel 1 & 2)
Range -22 to 22 V: ± 5 mV - Input Voltage (Channel 1 & 2)
Range -50 to 50 mA: ± 10 µA - Input Current (Channel 1 & 2)
Range -50 to 50 V: ± 10 mV - Input Voltage (Channel 1 & 2)
Approvals & Certifications
Damping Adjustment
0 to 3,600 seconds, Independent Rise & Fall Delays Per 1 V or 1 mA Output Change
Electrical Protection
Internal Fuse (0.5 A)
Overvoltage Protection at 250 V
Humidity
10 to 90 % Relative Humidity, Non-Condensing
Input
± 50 mA (Current)
± 50 Vdc (Voltage)
Transmitter Supply: 22 Vdc at 25 mA
Input Impedance
1 Megaohm (Voltage)
10 ohms (Current)
Isolation
3,750 Vdc - Isolation Test Voltage (Input Output Ports)
4,000 Vac - Isolation Test Voltage (Supply to Input/Output)
Linearization
User Linearization: 22-Segment Input to Process Variable
User Linearization: 3 to 22-Segment Input to Process Range
Load
Maximum
Output Voltage Load: Min. 1 Kiloohm (Compensation Provided)
Operating Temperature
-30° to 70° C (-22° to 158° F)
Output
0-10 V - Voltage Working Range
0-20 mA - Current Working Range
Current Sink: Supply Voltage 10-28 Vdc
Maximum
Power
3 W at Full Output Current
Power Supply Effect
0.2 µA/V (Sink Mode) - Loop Voltage Effect
Storage Temperature
-40° to 85° C (-40° to 185° F)
Supply Voltage
20-240 Vac, 50/60 Hz
20-240 Vdc
Thermal Drift
± 1 mV/°C - Output Voltage
1 µA/°C - Output Current
Update Time
140 milliseconds (16-bits Full Range)
420 milliseconds (18-bits Full Range)
70 milliseconds (14-bits Full Range)
Warm-Up Time: 1 Minute to Full Accuracy
Voltage
Maximum
Working Voltage: 253 Vac