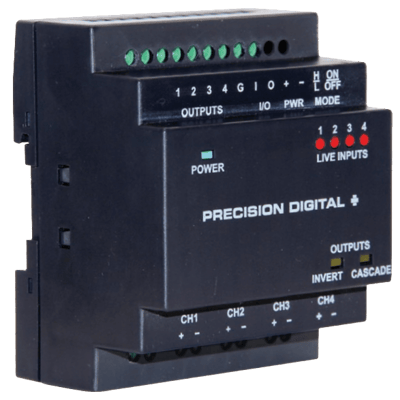 Images are representations only.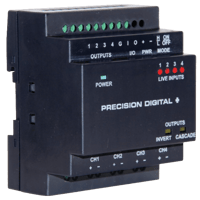 The PDA1500 High VAC/VDC to Logic Level Converter is an easy to use DIN rail mounted device for converting high voltage signals into logic level signals for use as a digital input to a wide range of process control and display equipment.

The PDA1500 accepts up to four high voltage AC or DC signals.

The PDA1500-115's inputs accept 85-130 VAC or VDC, and the PDA1500-230's inputs accept 185-265 VAC or VDC.

Powered from 12-24 VDC, the PDA1500 can drive outputs even when no high voltage inputs are present.

The outputs are user selectable for high or low states when voltage is present at the inputs.

Cascade mode is ideal for monitoring signals that can result in cascading or subsequent failures.

This mode monitors the point of failure when a failure in a single input causes a failure in all alarm points in a "series" system.

The PDA1500 is mounted in an ABS plastic DIN rail mounted enclosure for easy mounting inside a panel or instrument enclosure.
Features
Combine with the Vigilante II Annunciator to Monitor High Voltages
Four High Voltage Inputs Up to 265 VAC or VDC
Four Digital 5 VDC Outputs
Easy DIN Rail Mounting
Simple Two-Button Setup
Cascade Mode for Series Break Configurations
Multi-Unit Cascade Mode
Specifications
Approvals & Certifications
Configuration Method
Two latching pushbuttons for selection of output State inversion and cascade mode selection. No other Programming Required.
Indicators
One Green Power LED. Four Red LED indicators to monitor live Inputs on channels 1-4. Two Yellow LED indicators for inverted output and/or cascade output mode.
Input Channels
Four independent, isolated Input channels CH1 to CH4
Input Voltage Threshold
Input high Voltage levels are different for AC and DC Voltages. Instantaneous value is used to determine threshold for AC Input - rms Equivalents are shown below.
PDA1500-115Input High Threshold Range
60 Vac rms (85 Vac peak) or 85 Vdc
Input Low Threshold Range
31 Vac rms (44 Vac peak) or 44 Vdc
PDA1500-230Input High Threshold Range
131 Vac rms (185 Vac peak) or 185 Vdc
Input Current
1.2 mA (Typical) at "turn-On" or High Input Voltage
Propagation Delays
Input Propagation Delay to Logic Low: 4 µs (Typ), 15 µs (Max), Input Propagation Delay to Logic High: 8 µs (Typ), 40 µs (Max).
Input Impedance
PDA1500-115: > 60k Ω total impedance per channel, PDA1500-230: > 140k Ω total impedance per channel.
Input Overload
Must not exceed 50 mA DC (35 mA rms) on Input channels. Maximum Input Power dissipation is 230 mW. Surge Protection included for up to 140 mA. Transient Protection included for up to 500 mA.
Digital Outputs
Four TTL Logic (5 V) independent digital outputs.
Output Logic Levels
Output Low: 0 to 0.33 V
Output High: 4.4 to 5.0 V
Cascade Mode
Typically used in Boiler applications to monitor for and detect Fault conditions.
Power
12-24 Vdc + 10 %, 1.5 W Maximum Polarity Sensitive. Short-Circuit Protected. Isolated.
Maximum Power Dissipation
PDA1500-115: 3 W (Total dissipation of unit) PDA1500-230: 4 W (Total dissipation of unit)
Isolation
630 VRMS between Input channels, 3750 VRMS Input-to-Power line, 3750 VRMS Input-to-output, 1000 VRMS output-to-Power line
Overvoltage
Maximum overvoltage (Transient) Allowable is 6000 V peak for 60 seconds
Environmental
Operating Temperature Range: 0 to 65° C
Storage Temperature Range
Connections
Fixed Screw terminal blocks accept 12 to 30 AWG solid or stranded wire.
Enclosure
DIN Rail-mountable ABS plastic Enclosure. Color: Black
DIN Rail Specification
35 mm "top hat" DIN Rail Required
Tightening Torque
Screw terminal Connectors: 4.3 Lb-in (0.56 Nm)
Overall Dimensions
Inch (mm) 3.00" × 3.63" × 2.38" (76.3 mm × 92.3 mm × 60.5 mm)(W × H × D)