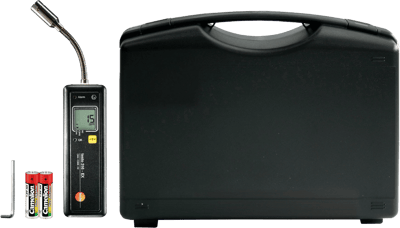 Images are representations only.
Testo 316-EX - Gas Leak Detector
Brand:
Testo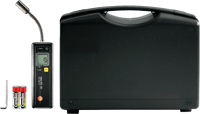 The testo 316-EX gas leak detector helps you detect gas leaks. Gas verification and gas leak location can be carried out on gas pipes and installations both indoors and outdoors.

When house owners notify the network operator or fitter that they can clearly smell gas in the house, a highly explosive gas concentration may already be present (4–17%).

The fitter has to use a gas detector to check sections of gas pipes for leak tightness to locate possible leaks.

The testo 316-EX gas leak detector offers EU ATEX protection (ATEX approval 94/9/EC). Use the multi-range gas detector to detect methane, propane and hydrogen gases.

The gas concentrations are measured in the ppm range with a semiconductor sensor and are shown on the display with a resolution of 1 ppm.

Flexible measuring probes mean you can search for leaks even in inaccessible areas.
Features
ATEX approval (94/9/EC)
ppm and vol.% display
Flexible probe for inaccessible areas
3 different types of gas can be detected: methane, propane and hydrogen
Specifications
Delivery Scope
Testo 316-EX Electronic Gas Leak Detector with EX Protection, including Batteries, Case, Allen Key and Calibration Protocol
Operating Humidity
20 to 80 %rH (Not Condensed)
Weight
Approx. 7 oz. / Approx. 200 g
Dimensions
5 x 2 x 1 in. / 135 x 45 x 25 mm
Operating Temperature
14°F to 104°F / -10°C to +40°C
EU-/EG-Guidelines
94/9/EG (ATEX); EU-guideline 2014/30/EU
Battery Feature
Type permitted for use in areas with danger of explosion: Camelion Plus Alkaline LR6 (see order data, order no. 0515 0316)
Storage Temperature
14°F to 122°F / -10°C to +50°C
Ex-Protection
II 2G EEx ib IIC T1 (Ex Zone 1)
Methane (CH₄)
Measuring Range: 1 ppm to 2.5 Vol.% CH₄
Resolution: 1 ppm / 0.1 Vol.%
Lower Response Threshold: 1 ppm
Propane (C₃H₈)
Measuring Range: 1 to 1.0 Vol.% C₃H₈
Resolution: 1 ppm / 0.1 Vol.%
Lower Response Threshold: 1 ppm
Leak Detection H₂
Measuring Range: 1 ppm to 2.0 Vol.% H₂
Resolution: 1 ppm / 0.1 Vol.%
Lower Response Threshold: 1 ppm