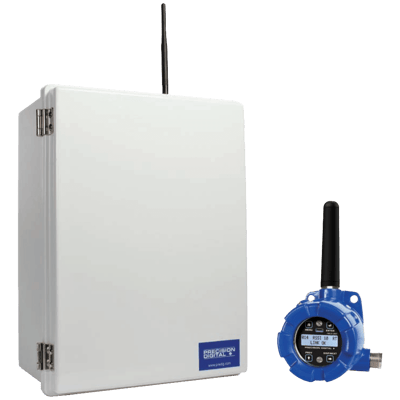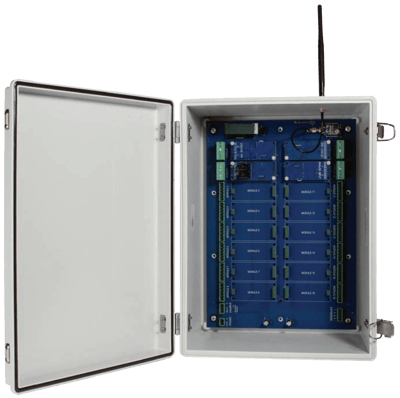 Images are representations only.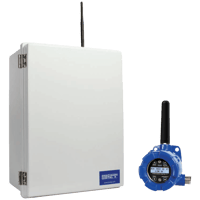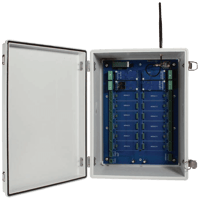 The Precision Digital PDW90 is a rugged, customizable, point to multipoint wireless bridge that can be configured for a variety of inputs and outputs including a maximum of 32 Analog inputs.

It offers a highly-flexible means of getting Analog, digital, and Modbus signals from where you have it to where you need it.

Modular input/output cards and expandable field units mean that the PDW90 can be customized to meet the needs of just about any wireless application.
Features
Point to Multi-Point Signal Wire Replacement
Simple to Configure Using PDW Manager Programming
Software and Onboard USB
Range: 1 Mile Line-of-Sight, 500 ft Indoor
Base Station

Rugged Plastic NEMA 4X Field Enclosure
Field or Wall Mounted
RS-485 Modbus Standard
Up to 16 Dual Input/Output Expansion Cards
Analog Input, Analog Output, Relay Output, and Digital I/O Cards Available
Field Units

Analog Input and Output, Four Digital I/O, and RS-485 Modbus® Standard
Remote or Attached Antenna
Flanges for Wall or Pipe Mounting
NEMA 4X, IP68 Enclosure
Specifications
Accuracy
Dual 4-20 mA Output Module, Isolated 4-20 mA Transmitter Output: ± 0.1 % of Span ± 0.004 mA
Dual Analog Input Module: ± 0.03 % of Calibrated Span ± 1 Count
Calibration
Field Unit, Dual Analog Input Module, Dual 4-20 mA Output Module: Recalibration is Recommended at Least every 12 Months
Communication
Dual Analog Input Module: Analog Input Will Not Interfere with Existing HART Communications on the Wired 4-20 mA Signal
RS-485 Modbus
RS-485 Modbus RTU Serial Communication (Compatibility): EIA-485
RS-485 Modbus RTU Serial Communication: Baud Rate: 1,200 to 57,600 bit/sec
RS-485 Modbus RTU Serial Communication: Data Length: 8-bits
RS-485 Modbus RTU Serial Communication: Start Bit: 1-bit
RS-485 Modbus RTU Serial Communication: Stop Bit: 2-bits
USB
Current
Sink Current: 1.5 mA Minimum (Input Current)
Source Current: 10 mA - Maximum
Display
Field Unit: 32-Character Dual-Line Alphanumeric Dot Matrix LCD with Backlight (4.68 mm × 2.21 mm Characters)
Field Unit: Display May be Mounted at 90° Increments up to 270° from Default Orientation
LCD Display
Distance
RS-485 Modbus RTU Serial Communication: 3,937 feet (1,200 metres) - Maximum
Electrical Connectors
Field Unit: Removable Screw Terminal Blocks Accept 16 to 30 AWG Wire
Removable Screw Terminal Blocks Accept 12 to 22 AWG Wire
RS-485 Modbus RTU Serial Communication: Removable Screw Terminal
Electrical Rating
Dual Relay Module: 1/14 hp (50 W) at 125/250 Vac for Inductive Loads
Dual Relay Module: 3 A at 30 Vdc, 125/250 Vac Resistive Load
Enclosure Finish
Field Unit: Blue
Field Unit: Corrosion Resistant Powder-Coated
Gray
Enclosure, Body Material
Field Unit: 0.30 %, Maximum
Field Unit: Cast Aluminum with Glass Window
Thermoplastic Polyester
Humidity
0 to 90 % Relative Humidity, Non-Condensing
Input
Digital Input Logic High: 3-5 Vdc
Digital Input Logic Low: 0-1.1 Vdc
Dual Analog Input Module (Field Selectable): 0-10 V
Dual Analog Input Module (Field Selectable): 4-20 mA
Input Impedance
Dual Analog Input Module (Current Range): 50 to 100 ohms (Depending on Resettable Fuse Impedance)
Dual Analog Input Module (Voltage Range): > 500 kiloohms
Loop Resistance
Dual 4-20 mA Output Module, Isolated 4-20 mA Transmitter Output (Output Loop Resistance): 10 to 900 ohms
Mounting
1.5" Pipe Mounting
Wall Mounting
Operating Temperature
-40° to 65° C (-40° to 149° F)
Output
Digital Output Logic High: 3.1-3.3 Vdc
Digital Output Logic Low: 0-0.4 Vdc
Dual 4-20 mA Output Module, Isolated 4-20 mA Transmitter Output (Factory Calibrated): 4-20 mA
Dual 4-20 mA Output Module, Isolated 4-20 mA Transmitter Output (Signal Loss): after Approximately 25 seconds of Trying to Reconnect, 3.2 mA
Plug Material
Field Unit (Conduit Plug): Stainless Steel
Power
2.4 W Minimum
24 Vdc ± 10 %
36 W, Maximum
Field Unit: 12-28 Vdc, 5 W, Maximum
Isolated 4-20 mA Transmitter Output (Output Loop Power): 24 Vdc
Power Supply
Dual 4-20 mA Output Module, Isolated 4-20 mA Transmitter Output (Output Loop Power): 24 Vdc
Range
Wireless Radio: 5,280 feet (1,610 metres) Outdoor (Line-of-Sight)
Wireless Radio: 500 feet (152.4 metres) Indoor
Storage Temperature
-40° to 85° C (-40° to 185° F)
Switch Type
Dual Relay Module: 2 SPDT (Form C)
System Requirements
Microsoft Windows® XP/Vista/7/8/10
Thermal Drift
Dual 4-20 mA Output Module, Isolated 4-20 mA Transmitter Output: 0.4 µA/°C, Maximum
Dual 4-20 mA Output Module, Isolated 4-20 mA Transmitter Output: 0.8 µA/°C, Maximum
Dual Analog Input Module: 0.005 % of Calibrated Span/°C, Maximum
Dual Analog Input Module: 0.01 % of Calibrated Span/°C, Maximum
Torque
Field Unit (Signal Connector Tightening Torque): 0.28 Nm (2.5 In/Lbs)
Tightening Torque (Screw Terminal Connectors): 0.56 Nm (5 In/Lbs)