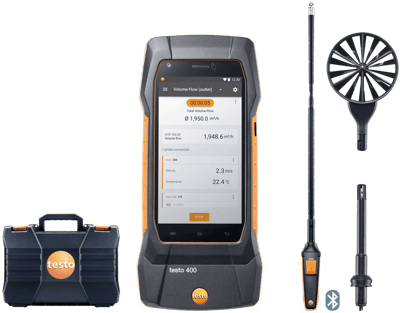 Images are representations only.
Testo 400 Flow Set with Hot Wire Probe / 16 mm Vane Probe
Brand:
Testo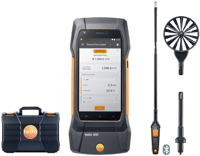 Ideal set for air conditioning professionals with a focus on volume flow measurement.

You get the universal climate measuring instrument Testo 400 with intuitive measurement menus, a vane probe head (Ø 16 mm) or a hot-wire probe head (incl. temperature and humidity sensor), a vane probe head (Ø 100 mm) and a high-precision humidity-temperature probe head - all three can be attached to the Bluetooth ® handle supplied.

For measurements at ceiling outlets, simply combine the 100 mm vane probe with the telescope (extendable up to 1.0 m) and the 90° angle.
Features
A measuring device for all climate-relevant parameters
Standard-compliant determination of the volume flow in the duct by means of network measurement according to EN ISO 12599 and ASHRAE 111
In the set: Testo 400 universal air-conditioning measuring instrument, hot-wire probe (with Bluetooth® handle and telescope), vane probe head (Ø 100 mm), high-precision humidity/temperature probe head, 90° angle, case
Expandable with a large probe portfolio
Analysis software for creating professional reports and measurement data management
Digital probes avoid an additional measurement uncertainty of the measuring device
Details on Set Components


Testo 400 - Universal Climate Measuring device
Hot wire probe (digital) - with Bluetooth ® incl. temperature and humidity sensor (or Vane probe (Ø 16 mm, digital) - with Bluetooth®, incl. temperature sensor)
100 mm vane probe head
High-precision humidity-temperature probe head
90° angle for connecting vane probes (Ø 100 mm)
Transport case for volume flow measurement
Specifications
Delivery Scope
Testo 400 Universal Air-conditioning measuring instrument, Silicone hoses, Mains unit with USB Cable, Calibration Protocol, Operating Instructions (0560 0400)
Hot wire probe with Bluetooth including temperature and humidity sensor (consisting of hot wire probe head, handle adapter and Bluetooth handle), 4 x AA batteries, telescope (extendable to 1.0 m) and calibration protocol (0635 1571)
Vane probe with Bluetooth including temperature sensor (consisting of 16 mm vane probe head, handle adapter and Bluetooth handle), 4 x AA batteries, telescope (extendable to 1.0 m) and calibration protocol (0635 9571)
Vane probe head (Ø 100 mm) incl. temperature sensor, holder for testovent measuring funnel and calibration protocol (0635 9430)
High-precision humidity-temperature probe head incl. calibration protocol (0636 9770)
Please do not use the probe head in a condensation atmosphere. For continuous use in high humidity areas: > 80 % RH at ≤ 30° C for > 12 h, > 60 % RH at > 30° C for > 12 h , contact Testo Service or contact us via the Testo website
90° angle for connecting vane probes (Ø 100 mm) (0554 0991)
Transport case for volume flow measurement (0516 1400)
Temperature - NTC
Measuring Range: -40.0° F to 302.0° F / -40° C to +150° C
Accuracy: ± 0.2° C ± 1-Digit (-25° C to +74.9° C) | ± 0.4° C ± 1-Digit (-40° C to -25.1° C) | ± 0.4° C ± 1-Digit (+75° C to +99.9° C) | ± 0.5 % of Reading VAT ± 1-Digit (remaining measuring range)
Resolution: 0° F / 0.1° C
Temperature - TC Type K (NiCr-Ni)
Measuring Range: -200° C to +1370° C
Accuracy: ± (0.3° C + 0.1 % of mv.) ± 1-digit
Resolution: 0.1° C
Differential Pressure (Internal Sensor) - Piezoresistive
Measuring Range: -40 to +80 inH₂O / -100 to +200 hPa
Accuracy: ± (0.0 inH₂O + 1 % of mv) ± 1 Digit (0 to 25 inH₂O) / ± (0.3 Pa + 1 % of mv) ± 1 Digit (0 to 25 hPa) | ± (0.0 inH₂O + 1.5 % of mv) ± 1 Digit (10.000 to 80 inH₂O) / ± (0.1 hPa + 1.5 % of mv) ± 1 Digit (25.001 to 200 hPa)
Resolution: 0.000 inH₂O / 0.001 hPa
Absolute Pressure (Internal Sensor and External Probe)
Measuring Range: 280 to 440 inH₂O / 700 to 1100 hPa
Accuracy: ± 1 inH₂O / ± 3 hPa
Resolution: 0.1 inH₂O / 0.1 hPa
Weight
17.99 oz. (Gauge) / 510 g (Gauge)
Dimensions
8.3 x 3.7 x 1.5 in. / 210 x 95 x 39 mm
Operating Temperature
23.0° F to 113.0° F / -5° C to +45° C
Connectable Probes
4 x Digital Bluetooth Probe or Testo Smart Probe
2 x Digital Probe with Fixed Cable or Temperature Probe NTC with Fixed Cable (via Testo Universal Connector - TUC)
2 x Temperature Probe TC Type K with Fixed Cable
*TUC connection (Testo Universal Connector): For the connection of fixed cable digital probes and NTC probes
Camera Image Size
Main Camera: 8.0 MP
Front Camera: 5.0 MP
Battery Life
approximately 10 hrs Continuous Operation
Display Type
5.0" Touch Display, HD 1280 x 720 pixels, IPS (160 k)
Power Supply
Rechargeable Li-ion Battery (5550 mAh)
Memory
2 GB, 1,000,000 Measuring Values
Storage Temperature
-4.0° F to 140.0° F / -20° C to +60° C
Ideal for Measurements around Air Conditioning and Ventilation System Installations
Climate Measurements in the Air Conditioning and Ventilation Area