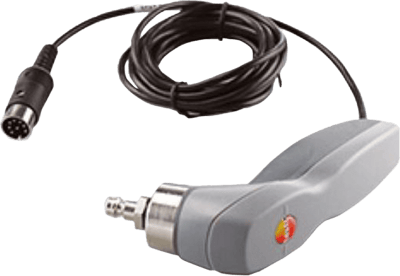 Images are representations only.
High-Pressure Probe up to 362 psi - For Pressure Tests up to 25 bar
Brand:
Testo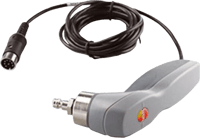 Use the high-pressure probe to carry out pressure tests up to 25 bar and pressure tests on fluids.

The testo 324 only enables pressure testing of gaseous media up to 1 bar.

This high-pressure probe can also be used for liquid media and it has a 25 bar pressure range.

This means that high-pressure tests on water pipes or tests on waste water pipes according to DIN EN 1610 are possible.
Features
Pressure tests up to 25 bar 
Pressure tests on fluids
High-pressure tests on water pipes, tests on waste water pipes according to DIN EN 1610
Can be attached to testo 312-4 and testo 324
Specifications
Delivery Scope
High-Pressure Probe with Fixed Cable
Pressure Measurement
Measuring Range: 0 to 363 psi / 0 to 25 bar
Accuracy: ± 0.6 % of full-scale value (0 to 145 psi) / ± 0.6 % of fsv (0 to 10 bar) | ± 0.6 % of full-scale value (> 145 psi) / ± 0.6 % of fsv (> 10 bar)
Resolution: 4 inH₂O / 10 hPa