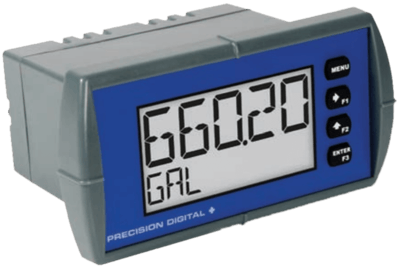 Images are representations only.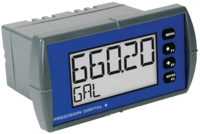 The Loop Leader PD6600 is a general-purpose, loop-powered, 1/8 DIN process meter.

The four front panel buttons make setup and programming of the meter simple and intuitive.

A dual-line display featuring five digits on the top line and eight digits on the bottom line, preprogrammed engineering units, and optional bar graph display: PD6604 or feet and inches display: PD6603 provide a clear and attractive presentation of the process.

The units of measure can be changed as needed within a unit class: e.g. volume, temperature, pressure, without the need to re-scale the meter.
Features
Loop-Powered Backlight with Red Backlight for Alarm Conditions 
Loop-Powered Process Meter 
Loop-Powered Feet and Inches Level Meter - PD6603
Displays up to 999 Feet 11 and 15/16 Inches - PD6603
1.5 Volt Drop - 4.5 Volt Drop with Backlight
IP65 Front 
Operating Temperature Range: -40° to 75° C / -40° to 167° F
Five Digit Top Line 
Alphanumeric Tag Names 
Dual Line Display 
1/8 DIN Shallow Depth Case 
Optional Loop-Powered Solid State Relays 
Optional 4-20 mA Analog Output 
Open Collector Output Standard 
Optional Bargraph Display - PD6604
Timer Functions for Open Collectors and Relays 
Relay Pump Alternation Based on Level and Time 
Relay Runtime and Cycle Count 
Specifications
Accuracy
4-20 mA Transmitter Output: ± 0.05 % of Full Scale ± 0.001 mA
Process Input (Square Root & Programmable Exponent): 10 to 100 % of Full Scale
Process Input: ± 0.02 % of Span ± 1 Count
Alarm
Open Collector Output & Solid State Relay Alarm Deadband: 0 to 100 % of Full Scale, User Programmable
Open Collector Output & Solid State Relay on & Off Time Delay: 0 to 9,999 seconds
Open Collector Output & Solid State Relay: User Programmable for High/Low Alarm
Calibration
4-20 mA Transmitter Output: Factory Calibrated 4-20 mA
Recalibration is Recommended at Least Every 12 Months
Display
14-Segment Alphanumeric Characters
Bargraph - PD6604
Bottom: 0.4" (10.2 mm)
On Bottom: Dual-Line LCD with 8-Digit
On Top: Dual-Line LCD with 5-Digit
Process Input (Display Range): -9,999 to 99,999 on Top Line - PD6602 & PD6604
Process Input (Display Range): -9,999,999 to 99,999,999 on Bottom Line - PD6603
Top: 0.7" (17.8 mm)
Electrical Connectors
Removable Screw Terminals Accept 12 to 22 AWG Wire
Electrical Contacts
DI Digital Input Contacts: Normally Open
Electrical Rating
Open Collector Output: Two NPN, Isolated Open Collector, 30 Vdc at 90 mA - Maximum
Solid State Relay (Resistive Load): 250 Vac/dc at 1 A
Enclosure, Body Material
High Impact Plastic
Noryl Polyphenylene Ether Resin
Noryl Polystyrene Blend Resin
Stainless Steel
Steel
Frequency
Open Collector Output (Pulse Output Frequency): 250 Hz, Maximum
Humidity
0 to 90 % Relative Humidity, Non-Condensing
Input
DI Digital Input Contact: 2.1 Vdc
DI Digital Input Logic High: 2.4-30 Vdc, Maximum
DI Digital Input Logic Low: 0-0.9 Vdc
Process Input (Scaling & Display Range): 4-20 mA
Process Input (Voltage Drop with Backlight): 4.5 V, Maximum
Process Input Overload: over Current Protection to 1 A, Maximum
Isolation
4-20 mA Transmitter Output: 500 V
K-Factor
Open Collector Output (Pulse Output Factor): 0.000001 to 999,999.9
Load
Solid State Relay (Inductive Load): 1/10 hp at 125/250 Vac/dc
Loop Resistance
4-20 mA Transmitter Output: 10 to 750 ohms at 24 Vdc
4-20 mA Transmitter Output: 100 to 1,100 ohms at 30 Vdc
Materials of Construction
Buttons: Black Silicone Rubber
Faceplate: Lexan Polycarbonate (PC) Film
Operating Temperature
Environmental: -40° to 75° C (-40° to 167° F)
Output
4-20 mA Transmitter Output (Scaling Range): 1-23 mA
Analog Output: 4-20 mA
Power Supply
4-20 mA Transmitter Output (External Loop Power Supply): 7-30 Vdc, Maximum
Pulse Range
Open Collector Output (Pulse Width): 2 milliseconds, 50 % Duty Cycle
Range
Process Input (Scaling Range): -999,999.9 to 999,999.9
Resistance
Process Input (Equivalent Resistance with Backlight Off): 75 ohms at 20 mA
Process Input (Equivalent Resistance with Backlight On): 225 ohms at 20 mA
Storage Temperature
-40° to 85° C (-40° to 185° F)
Thermal Drift
4-20 mA Transmitter Output: 0.5 µA/°C, Maximum
Process Input: 25 ppm/°C from -40° to 75° C (-40° to 167° F) Ambient
Torque
Tightening Torque (Screw Terminal Connectors): 0.5 Nm (4.5 In/Lbs)
Tightening Torque, Maximum
Update Time
Display Update Rate at Ambient > -10° C (14° F): 1 Update / 1 second
Display Update Rate at Ambient > -20° C (-4° F): 1 Update / 2 seconds
Display Update Rate at Ambient -40° C (-40° F): 1 Update / 10 seconds
Voltage Drop
Process Input (without Backlight): 1.5 V, Maximum