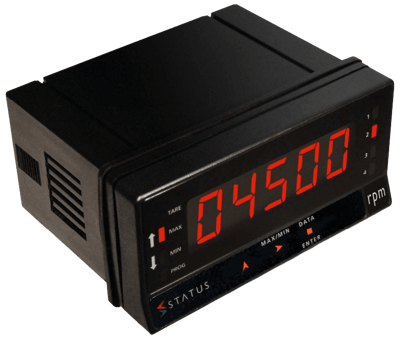 Images are representations only.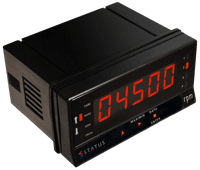 The DM4500F accepts various types of pulse and frequency inputs to display Rate, Totalise, Flow, RPM and Pulse Count enabling the DM4500F to be used in a variety of applications.

Output options are provided that include NPN / PNP, 2 or 4 relays, current / voltage and RS485 comms.

The unit can be fully programmed from the front panel buttons or via the RS485 comms option. When used as a frequency meter and pulse counter, 5 digit resolution is provided.

The totalizer function has an 8 digit resolution displayed in 2 parts. All parameters can be entered by pressing combinations of the three sealed front panel keys through a series of menus in helpful mnemonics or via the optional communications port.

The display can be programmed to read in three different colours and two levels of brightness. Red, Green and Orange. Colours can be programmed in a variety of different ways. For example alarm, normal running or high scale.
Features
Tachometer / totalizer (8 digits)
Frequency meter
Pulse counter (5 digits) + totalizer (8 digits)
Suitable for magnetic pick up
Suitable NPN / PNP input
Suitable for contact closure
Suitable for namur sensors
Sensor excitation
Relay, NPN/ PNP, current / voltage output options
DM4500F/S*
Panel Mount Digital Indicator
217,10 €
EUR
Does not ship to US
Specifications
Accuracy
0.005 % - Frequency/Tachometer
0.01 % - Chronometer
0.1 % of Full Scale ± 1-bit: OPT4500/MA & OPT4500/V Output (mA/V Option)
Approvals & Certifications
Consumption
10 W, Maximum
5 W (without Options) - Power
Current
5 A, Maximum
8 A, Maximum
Ioff: > 3 mA DC (NAMUR)
Ion: < 1 mA DC (NAMUR)
Leakage: 100 µA, Maximum
Maximum
Display
Counter Limits: -99999 to 99999
LED Display - 5 Programmable Tricolor 14 mm Digits
Duty Cycle
FC with 30 % Contact Enclosure Filter for 10 Hz
FC with 50 % Contact Enclosure Filter for 20 Hz
Enclosure, Body Material
Polycarbonate (UL 94 V-0)
Excitation Voltage
18 Vdc at 100 mA (Not Stabilized)
24 Vdc at 30 mA
8 Vdc at 30 mA
Frequency
0.01 Hz to 20 kHz / 10 kHz (Totalizer)
15 kHz: Up or Down with Relays, Bi-Directional Phase or Direct with Relays & Bi-Directional Indepedent with Relays (Counter)
20 kHz: Up or Down without Relays, Bi-Directional Phase or Direct without Relays & Bi-Directional Independent without Relays (Counter)
50/60 Hz
Maximum
Minimum: 0.01 Hz
Humidity
< 95 % Relative Humidity, Non-Condensing
K-Factor
Scale Factor Counter, Frequency / Tach: Programmable from 0.0001 to 99999
Load
≤ 500 ohms, Maximum
≥ 10 kiloohms, Maximum
Operating Temperature
-10° to 60° C (14° to 140° F)
Power
1,250 VA / 150 W, Maximum
10.5-70 Vdc: DM4500/S2
100-300 Vdc: DM4500 / S1
2,000 VA / 192 W, Maximum
22-53 Vac: DM4500/S2
85-265 Vac: DM4500/S1
Programming
Decimal Point
Front Panel Buttons
Resolution
13-bits: OPT4500 / MA & OPT4500 / V Output (mA/V Option)
5-Digits - Frequency Meter & Pulse Counter
8-Digits - Totalizer Function Resolution Displayed in 2 Parts
Response Time
0.1 to 9.9 seconds Programmable - Frequency/Tachometer
50 milliseconds: OPT4500 / MA & OPT4500 / V Output (mA/V Option)
Sensitivity
> 120 mVpp at > 1 kHz - Input (2-Channels) Magnetic Pickup
> 60 mVpp at 60 mVpp at < 1 kHz - Input (2-Channels) Magnetic Pickup
Storage Temperature
-25° to 85° C (-13° to 185° F)
Thermal Drift
0.2 mV/°C: OPT4500/V Output (mA/V Option)
0.5 µA/°C: OPT4500 / MA Output (mA/V Option)
Turn-On Time
Switching Time: 1 millisecond, Maximum
Switching Time: Maximum
Update Time
100 milliseconds - Counter & Chronometer
Warm Up Time: 5 minutes
Voltage
0 2.6 Vdc: TTL / 2.4 Vdc (Encoder) Logic Levels & NPN or PNP Logic Levels
250 Vac / 150 Vdc, Maximum
277 Vac / 125 Vdc, Maximum
5 V, 3.9 K, 20 Hz: Contact Closure
High Input (1-Channel): 10-300 Vac
Maximum