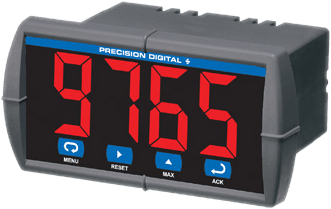 Images are representations only.
The PD765 Trident digital panel meter is one of the most versatile digital panel meters on the market and will satisfy a wide variety of process applications.

The Trident can be field programmed to accept process voltage (0-5 V, 1-5 V, etc) and current (4-20 mA) inputs, 100 Ohm RTDs, and the four most common thermocouples. It is housed in a shallow-depth, 1/8" DIN enclosure that features a NEMA 4X front panel and convenient mounting hardware.

There are two power options for the Trident: 85-265 Vac or 12-36 Vdc and it can provide 24 Vdc to power the transmitter if needed.

Programming and setup can be performed with the four front panel pushbuttons, free MeterView software, or using the Copy function.
Features
1/8 DIN Digital Panel Meter with NEMA 4X, IP65 Front
4-20 mA, ± 10 V, TC & RTD Field Selectable Inputs
4-Digit Display, 0.56" (14.2 mm) or 1.20" (30.5 mm)
Shallow Depth Case Extends Only 3.6" (91.4 mm) Behind Panel
24 VDC @ 200 mA Transmitter Power Supply
2 Relays + Isolated 4-20 mA Output Options
Free PC-Based MeterView Programming & Monitoring Software • No Assembly Required
Sunlight Readable Display
Operating Temperature Range: -40 to 65°C (-40 to 150°F)
UL & C-UL Listed. E160849; UL 508 Industrial Control Equipment
Input Power Options: 85-265 VAC or 12-36 VDC
Duplex Pump Controller with Alternation Capability
External Contacts for Remote Button Operation (Trident X2 Only)
USB, RS-232, & RS-485 Serial Communication Adapters Options
Modbus RTU Communication Protocol Standard
Copy Meter Settings to Other Trident Meters
Max/Min Display
High & Low Alarms with Multiple Reset Actions
Light / Horn & Reset Button Accessory for Trident X2
Control Station Accessory For Remote Operation of Trident X2
3-Year Warranty
Specifications
Approvals & Certifications
Electrical Connectors
Terminal Block for 12 to 22 AWG Wire
Isolation
4 kV Input/Output-to-Power-Line
Operating Temperature
-40° to 65° C (-40° to 149° F)
Power Options
20 W, Max.
50/60 Hz
85-265 Vac
90-265 Vdc
Programming
Certified LabView Driver Available
Cloning Using Copy Function
Four Front Panel Buttons
Modbus Registers
PC with MeterView or LabView Software