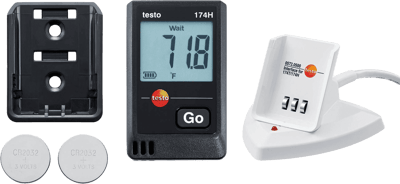 Images are representations only.
Testo 174 H - Mini Temperature and Humidity Data Logger Kit
Brand:
Testo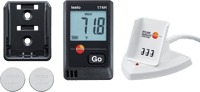 The testo 174H mini temperature and humidity data logger has a large display and alarm indication that makes it capable of monitoring air temperature and relative humidity levels at all times.

This temperature and RH measurement logger is long lasting for continuous use and has a high accuracy.

The 174H mini temperature and humidity data logger kit includes a USB interface for data transfer and has free software available as a download for easy analysis.

The testo 174T is an ideal logger for the continuous monitoring of temperatures and humidity.

The 174T has clear indications of when humidity and temperature thresholds have been exceeded.
Features
Professional software with Excel export function for programming the logger and data analysis
Temperature measuring range from -20°C to +70°C
Automatic measuring data backup when the battery runs out or is changed
Measurement data memory for up to 16,000 readings
Easy-to-change battery
Displays violations of limit values
CFR 21 Part 11 compliant
High accuracy NTC thermistor sensor for reliable measurement data of temperature and humidity
Easy to read large display that shows current reading and exceeded measurement limits
IP65 protection class
HACCP compliant
CFR 21 Part 11 Compliant
Please note: One USB interface for data transfer can be used for multiple instruments
Specifications
Delivery Scope
Testo 174H Temperature and RH Measurement Logger, USB Interface for Data Transfer
Dimensions
2 x 1 x 0.7 in. / 60 x 38 x 18.5 mm
Operating Temperature
-4° to 158 °F / -20 to +70 °C
Standards
2011/65/EU; EU-guideline 2014/30/EU
Battery Type
2 x 3V button cell (CR 2032)
Battery Life
1 year (15 min measuring cycle, +25 °C)
Storage Temperature
-40°F to 158°F / -40°C to +70°C
Temperature - NTC
Measuring Range: -4°F to 158°F / -20°C to +70°C
Accuracy: ±0.9°F (-4°F to 158°F / ±0.5°C (-20°C to +70°C)
Resolution: 0.1°F / 0.1°C
Humidity - Capacitive
Measuring Range: 0 to +100 %rH*
* Not for condensing atmospheres.
Accuracy: ±3 %rH (2 to 98 %rH) at 77 °F / ±3 %RH (2 to +98 %RH) at +25 °C | ±0.03 %rF/K ±1 Digit
Resolution: 0.1 %rH
Monitoring and Documentation of Building Climate
Monitoring and Documentation of Storage Temperature and Humidity
Monitoring and Documentation of Transport Temperature and Humidity