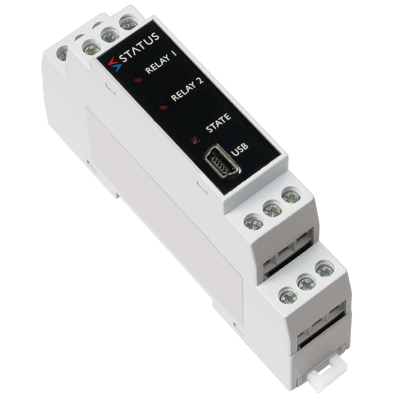 Images are representations only.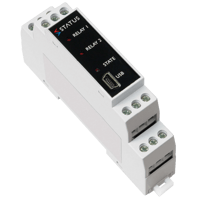 The SEM1620 is the next generation DIN rail mounted temperature amplifier from Status Instruments

It has been designed to accept most common process and temperature sensor inputs and provide the user with a three wire voltage output signal.

Isolation is provided between input and output and all temperature ranges are linear to temperature.

Designed for ease of use, our latest USB interface is fitted for quick and easy configuration. Just connect a standard USB cable between the SEM1620 and your PC.

Using our free configuration software, your PC will automatically upload the existing configuration data and guide you through any changes you wish to make.

To further help save time, the SEM1620 does not need to be wired to a power supply during the configuration process, it is powered via the USB interface from your PC.
Features
Pt100,Thermocouple,mV,mA Input
(0 to 10), (0 to 5), (2 to 10), (1 to 5) and ( 0 to 1)V DC Programmable output
Push Button User Trim For In Process Fine Tuning
Galvanic Isolation
View Live Data On An Android Phone Or Tablet
Specifications
Accuracy
± 0.008 mA - Input Typical mA
± 0.04 mV - Input Typical mV
± 0.1° C (± 0.2° F) / (± 0.05 % of Reading) - Input Typical P
± 0.5° C (± 0.9° F) ± 0.1 % of Full Scale Range, Only over the Range 800° to 1,600° C (1,472° to 2,912° F) - Input Typical R, S/Cold Junction
0.1 % of Full Scale Range ± 0.5° C (± 0.9° F) - Input Typical K, J, E, N
0.2 % of Full Scale Range ± 0.5° C (± 0.9° F) - Input Typical T
Calibration Accuracy: ± 5 mV
Cold Junction Tracking: ± 0.05° C (± 0.09° F)
Ambient Temperature Range
-10° to 50° C (14° to 122° F)
Approvals & Certifications
Burn-Out
Temperature Probe Burn-Out: Down/Scale
Temperature Probe Burn-Out: Up/Scale
Circuit Protection
Over Voltage Protection (OVP)
Reverse Connection
Current
10 mA - Max.
Input Typical: mA - Max.
Maximum
Humidity
10 to 90 % Relative Humidity, Non-Condensing
Input
-10 to 25 mA
-40 to 75 mV
4-20 mA
Input Impedance
1 Megaohm (Not Including 0.2 µA Open Circuit Detect Bias Current Effect) - Input Typical K, J, E, N, T, R, S, mV
2.7 ohms - Input Typical mA
Isolation
Galvanic Isolation: Input to Output Tested at 500 Vdc
Working Isolation: 48 Vdc
Materials of Construction
Polyamide 6.6 Self Extinguishing
Operating Temperature
-20° to 70° C (-4° to 158° F)
Output
0-10 V
Output Drive: 2 mA Driving 5 kiloohms at 10 V
Resistance Effect
Lead Effect: 0.015° C/ohms
Response Time
< 500 milliseconds to Reach 95 % of Final Value
Sensor Input
Sensor Excitation: < 450 µA
Sensor, Probe Type
E Thermocouple
J Thermocouple
K Thermocouple
N Thermocouple
P Thermocouple
R Thermocouple
S Thermocouple
T Thermocouple
Stability
± 0.005 % of Full Scale Range/°C - Input Typical P
± 0.01 % of Full Scale Range/°C - Input Typical K, J, E, N, T, R, S, mV, mA
Output: ± 1 mV/°C
Storage Temperature
-40° to 85° C (-40° to 185° F)
Temperature Range
-200° to 1,760° C (-328° to 3,200° F)
Cold Junction: -20° to 70° C (-4° to 158° F)