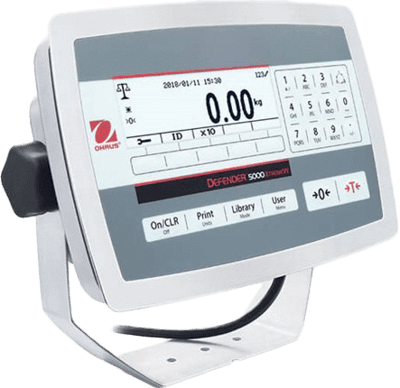 Images are representations only.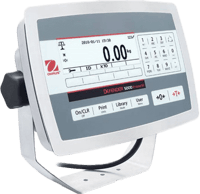 The OHAUS next generation Defender 5000 Series multifunctional indicator is ideal for use in conjunction with bench and floor scales for a multitude of applications including production, packaging, inventory and shipping.

Built durably and equipped with advanced features such as maximum configurability print output, GMP/GLP data output, library/user management and multiple connectivity options - the Defender 5000 Series is designed to handle demanding industrial and commercial applications.
Specifications
Battery Life
20 Hours with Rechargeable Battery
Outputs
4-20 mA, 2 In/4 Out digital I/O
Communication
Ethernet (Available as an Accessory)
2nd RS-232/RS-485/USB (available as an accessory)
RS-232 (Included)
USB (Available as an Accessory)
WiFi/Bluetooth (available as an accessory)
Dimensions
10.6 in x 8.7 in x 3 in (270 mm x 222 mm x 76 mm) (LxHxW)
Display
Dot matrix LCD with white LED backlight
Power
Rechargeable Battery (Not Included)
AC Power (Included)
Tare Range
To capacity by subtraction
Units of Measurement
Metric Tons
Gram
Kilogram
Pound
Tonne
Custom
Ounce
Pound:Ounce
Working Environment
14° F - 104° F, 85 %RH, non-condensing (-10° C - 40° C, 85 %RH, non-condensing)
Weighing
Parts Counting
Percent Weighing
Check Weighing
Dynamic Weighing (Display Hold)
Filling