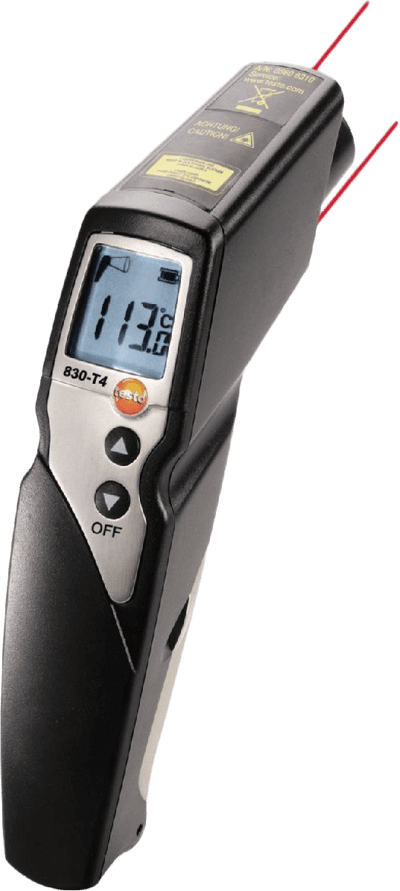 Images are representations only.
Testo 830-T4 - Infrared Thermometer with 2-point Laser Marking (30:1 Optics)
Brand:
Testo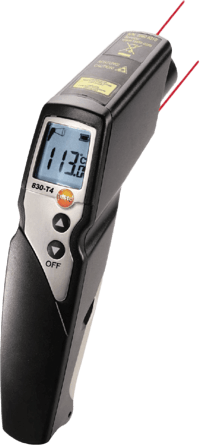 The Testo 830-T4 infrared thermometer achieves accurate results at greater distances during non-contact surface temperature measurement.

This is provided by its 30:1 optics and powerful processor. This infrared temperature measuring instrument carries out measuring tasks in trade and industry quickly and efficiently.

This universal infrared thermometer is designed to perform fast and accurate surface temperature measurements in the HVAC area and industry.

At a distance of 1 m, the point diameter is only 3.6 cm. From a secure distance, even smaller, difficult to access, or dangerous targets can be measured without any problems.

The new high resolution processor enables measurement results of unbelievable accuracy.

And due to the min./max. function, you can define your temperature limit values according to your needs. To control the limits with the help of an audible and visual alarm has never been easier.
Features
Laser marking
Accurate results thanks to its 30:1 optics and high resolution processor
Precision with 0.1 °C resolution
Easy to use thanks to the gun-style design
Adjustable emissivity
Hold function (to retain a reading)
Specifications
Delivery Scope
Testo 830-T4, IR Temperature Measuring Instrument with 30:1 Optics and 2-point Laser Measurement Spot Sighting, including Battery and Factory Calibration Certificate with the measurement points +176°F and +662°F
Dimensions
7 x 3 x 1 in. / 190 x 75 x 38 mm
Operating Temperature
-4°F to 122°F / -20°C to +50°C
Storage Temperature
-40.0°F to 158.0°F / -40°C to +70°C
Temperature - Type K TC
Measuring Range: -58.0°F to 932.0°F / -50°C to +500°C
Accuracy: ±0.9°F + 0.5 % of mv / ±0.5°C + 0.5 % of mv
Resolution: 0.1°F / 0.1°C
Measuring Rate: 1.75 sec
Temperature - Infrared
Measuring Range: -22°F to 752°F / -30°C to +400°C
Accuracy: ±2.7°F (-4.0°F to 32.0°F) / ±1.5°C (-20°C to 0°C) | ±3.6°F (-22.0°F to -4.2°F) / ±2°C (-30°C to -20.1°C) | ±2°F or ±1 % of mv (Remaining Range) / ±1°C or ±1 % of mv (Remaining Range)
Measuring Rate: 0.5 sec
Infrared Resolution: 0.1°F / 0.1°C