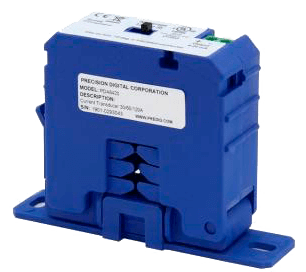 Images are representations only.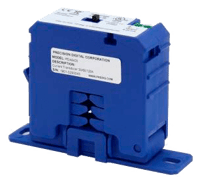 The PDA6420 Current Transducer Device (CTD) converts the current flowing through a cable or wire to a 4-20 mA signal and can be set up in the field to handle inputs of 30, 60, or 120 Amps.

This nonintrusive device features split core convenience for easy installation and is a cost-effective solution for monitoring load or proof of operation.

The current transducer is ideal for monitoring current loads on pumps, driving fans and blowers, and sensing the status of heating coils and lighting.

Current Transducer Devices used for load trending over time are effective sensors for predictive maintenance programs.

The PDA6420 requires 24 VDC power and this power can be provided by many Precision Digital meters or by the Precision Digital PDA1024-01 24 VDC power supply.
Features
Nonintrusive Conversion of 30/60/120 Amps to 4-20 mA
Split Core Convenience
Compact Design
+/-2% Full Scale Accuracy from 10% to 100% of Selected Range
Field Mounting Tabs Provided
Specifications
Accuracy
± 2 % Full Scale from 10 to 100 % of selected Range
Response Time
2 seconds to 100 % of selected Range
Wire Size
12 to 22 AWG (2.1 to 0.6 mm) diameter recommended
Humidity Range
0 to 95 % Relative Humidity, noncondensing
Dimensions
2.56" x 2.72" x 1.06" (65 mm x 69 mm x 27 mm) (W x H x D)
Aperture (Sensing Hole) Size
0.71" x 0.79" (18 mm x 20 mm)
Approvals (US)
Under UL 508 Industrial Control Equipment
CCN NRNT
File E310692
UL Listed
Approvals (Canada)
Under CAN/CSA C22.2 No. 14-05 Industrial Control Equipment.
CCN NRNT7
File E310692
UL Listed
Approvals (CE)
EMC Directive 2004/108/EC
Low Voltage Directive 2006/95/EC