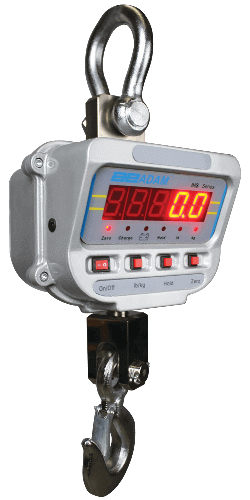 Images are representations only.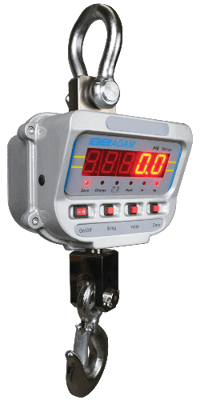 IHS crane hanging scales offer a strong, safe solution for weighing heavy, suspended loads in industrial settings such as shipping and production operations. Ruggedly constructed, IHS features robust metal die-cast housing, plated steel hook and sturdy, oversized shackle.

A remote control allows scale operation from a safe distance. LED display readings are highly visible in any lighting conditions, including outdoors. The hold function retains the value on the display after the item is removed from the scale, allowing time for the operator to record the weight.
Features
Hardware

Rotating hook allows easy access while loading, then safely locks in place during weighing
Remote control allows safe, hands-free operation
Sealed keypad protects against dirt and spills
Solid metal housing resists spills and protects internal components
Software

Auto power-off to save energy
Display

Bright LED display for easy viewing in most environments
Power

Rechargeable battery included for operation almost anywhere
AC adapter included
Specifications
Capacity
2,000 lb / 1,000 kg
6,000 lb / 3,000 kg
10,000 lb / 5,000 kg
20,000 lb / 10,000 kg
Readability
0.5 lb / 0.2 kg
5 lb / 2 kg
1 lb / 0.5 kg
2 lb / 1 kg
Repeatability (S.D.)
0.5 lb / 0.2 kg
5 lb / 2 kg
1 lb / 0.5 kg
2 lb / 1 kg
Linearity
± 1 lb / 0.4 kg
10 lb / 4 kg
± 2 lb / 1 kg
± 4 lb / 2 kg
Power Supply
7.2 Vdc 2 A Adapter / Internal Rechargeable Battery
Display
LED with 1.2" / 30 mm - High Digits
Operating Temperature
0° to 40° C (32° to 104° F)