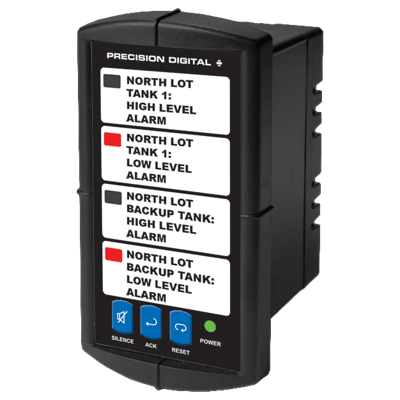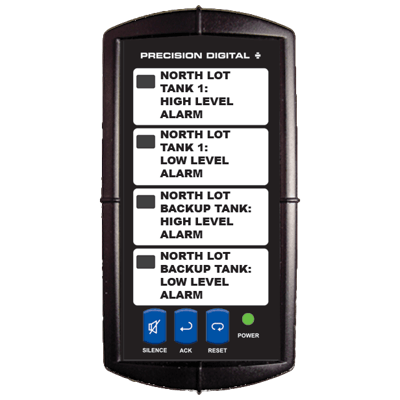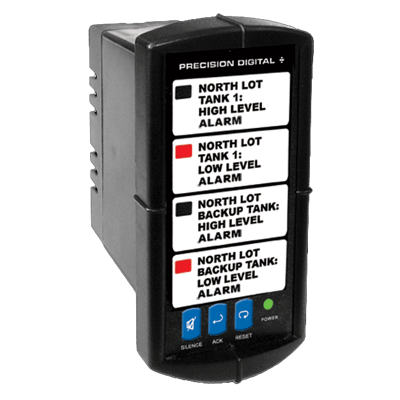 Images are representations only.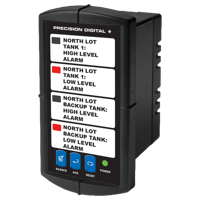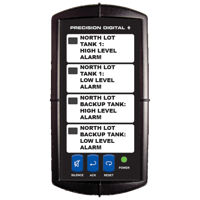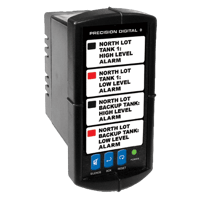 Model - 4-Point
Power Supply - 12-36 Vdc
Specifications
Approvals & Certifications
Display
One Green LED Power indicator
PD158, Eight Red LED channel indicators
PD154, Four Red LED channel indicators
Electrical Connectors
Removable Screw Terminal Blocks Accept 12 to 22 AWG Wire
Enclosure, Body Material
1/8 DIN, High Impact Plastic, UL 94V-0, Front color: Black
Isolation
4 kV Relay Output to Input/Output / Powerline
Mounting
1/8 DIN panel cutout required. Two panel mounting brackets included.
Operating Temperature
-40° to 65° C (-40° to 150° F)
Output Function
Normally Closed
Normally Open
Power Options
12-36 Vdc, 12-24 Vac, 6 W max
85-265 Vac, 50/60 Hz, 90-265 Vdc, 20 W max
Text Area
PD154, 1.25" x .60" (32 mm x 15 mm)4 messages
User Specified size and length, up to 4 lines (PD154) or 2 lines (PD158) of 14 characters of size 9 pt fonts.
PD158, 1.25" x .25" (32 mm x 6 mm)8 messages
Programming Methods
Three Front Panel pushbuttons for NO/NC Input selection, sequence option, and Operation
Rear 4-Position switch for sequence selection and horn Operation.
Noise Filter
40 ms debounce on Inputs and external pushbuttons
Shared First-Out Systems
1 ms unit-to-unit delay. Max. of 200 units in the shared first-out system.
Non-Volatile Memory
All programmed settings are stored in non-volatile memory for a minimum of ten years if power is lost
Fuse
Required External Fuse: UL Recognized, 5 A max., Slow Blow. Up to 6 annunciators may share one 5 A fuse
Isolated Power Supply
24 Vdc ± 10 % @ 200 mA max Standard on 85-265 Vac Powered units only.
Overvoltage Category
Installation Overvoltage Category II: Local level with smaller transient overvoltages than Installation Overvoltage Category III.
Storage Temperature Range
-40° to 85° C. Relative Humidity: 0° to 90 % Non-Condensing.
Connections
Removable Screw terminal blocks accept 12 to 22 AWG wire.
Tightening Torque
Screw terminal Connectors: Gray: 4.5 lb-in (0.5 Nm). Green: 5 lb-in (0.5 Nm)
Overall Dimensions
4.68" x 2.45" x 4.19" (62 mm x 119 mm x 106 mm) (H x W x D)
UL File Number
E160849, 508 Industrial Control Equipment